Mobile and Positioning_GMMT2016
Lau Ngoc Nguyen, and Can Pham
Ho Chi Minh City University of Technology
KEY WORDS: BEIDOU, GNSS, broadcast ephemerides

ABSTRACT
We have estimated the accuracy of the BEIDOU satellite coordinates and clock corrections, computed from the broadcast ephemerides at the end of 2015. The results show that the 3D accuracy of BEIDOU satellite coordinates depends on satellite orbital types ( ~6.6m for GEO satellites and ~2.3m for the MEO/IGSO satellites), while the precision of BEIDOU satellite clock corrections are almost identical at about 13ns.
The BEIDOU Navigation Satellite System is also called COMPASS, with the abbreviation as BDS. BEIDOU was built and developed by China. BEIDOU have similar functions to the US GPS System, Russian GLONASS system and European GALILEO system.
BEIDOU adopts the China Geodetic Coordinate System 2000 (CGCS2000). The time reference for the BEIDOU uses the BEIDOU Time (BDT). BDT is an internal, continuous navigation time scale, without leap second. The start epoch of BDT was 00:00:00 on January 1, 2006 of Coordinated Universal Time (UTC).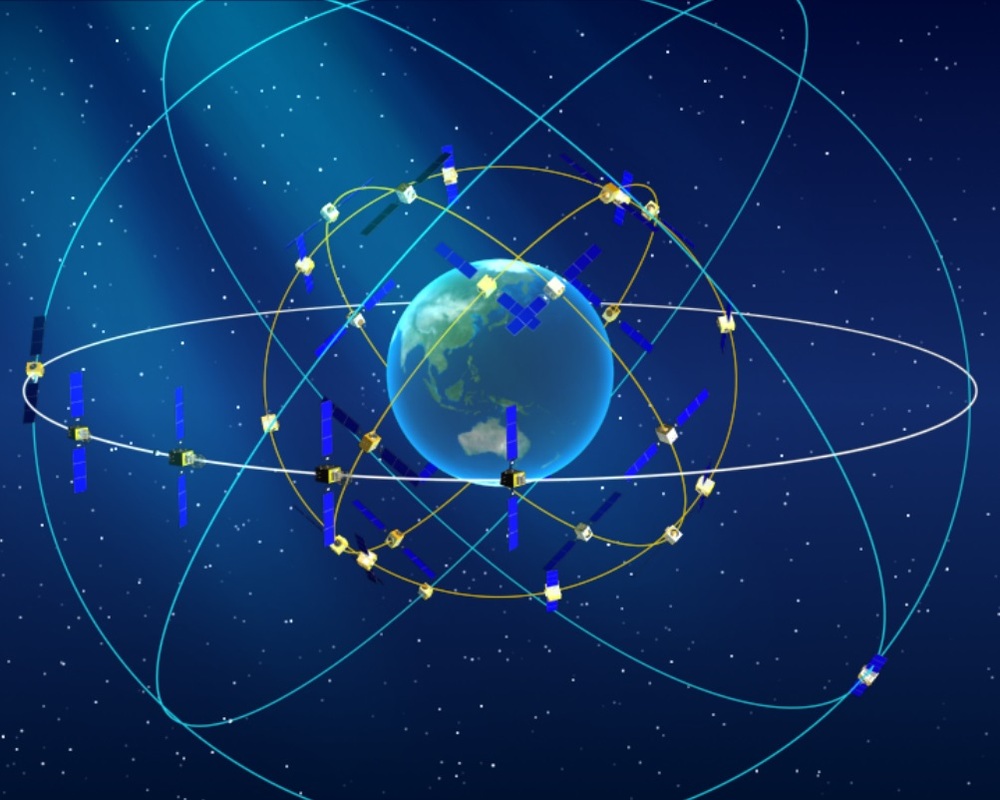 The space constellation of BDS consists of three orbital types: Geostationary Earth Orbit (GEO) satellites, Inclined Geosynchronous Satellite Orbit (IGSO) satellites and Medium Earth Orbit (MEO) satellites. The GEO satellites are operating in orbit at an altitude of 35.786 kilometers and positioned at 58.75°E, 80°E, 110.5°E, 140°E and 160°E respectively. Because of the design, the signals of the GEO satellites is always available in the Asia – Pacific region. The IGSO satellites are operating in orbit at an altitude of 35.786 kilometers and an inclination of 55° to the equatorial plane. The MEO satellites are operating in orbit at an altitude of 21.528 kilometers and an inclination of 55° to the equatorial plane.
The regional BDS Navigation Satellite System (BDS-2) comprises a total of 15 launched satellites out of which 13 were fully operational in 2015. In mid 2015, China started the build-up of the 3rd generation BDS system (BDS-3) which will offer a fully global navigation service by 2020. So far, 4 BDS-3 in-orbit validation satellites have been launched.
In Viet Nam, we can track up to 10 BDS satellites at the end of 2015 [7]. Therefore, the capability of positioning using only BDS is a reality. For this an understanding of the accuracy of the BDS broadcast orbit and clock is essential.
Some of the independent researches on this topic were carried out in 2013 [2, 6]. Oliver and Peter [6] indicated that an overall accuracy of better than 3 m (3D rms) for the MEO/IGSO broadcast ephemerides was obtainable.
In this paper we will carry out the comparison between the satellite coordinates and satellite clock correction computed from the BDS broadcast ephemerides with the precise ephemerides at the end of 2015.
BEIDOU BROADCAST EPHEMERIDE AND PRECISE EPHEMERIDE
The BDS broadcast ephemeride is similar to the GPS broadcast ephemeride. It also provides the polynomial coefficients to calculate the satellite clock corrections and Kepler extended parameters to calculate the satellite coordinates at any time. The formula for calculating the BDS MEO/IGSO satellite coordinates and clock correction is similar to GPS. For geostationary BDS satellites, the formula is modified slightly. These were mentioned in [4] so we do not repeat them here.
Note that, a set orbital parameters at a time update is only suitable for the calculation of the satellite coordinates in that time period. The update frequency parameters from the control station to the satellite for the BDS is every 1 hour, whereas GPS is 2 hours.
Currently there are some different centers that provide BDS precise ephemerides. The earliest one is the GNSS Research Center – Wuhan University in China. Its ephemerides, namely WUM, are available from 2013 (GPS week 1721) and have an accuracy of several decameters [3]. Nearly one year later, GBM ephemerides provided by the Helmholtz Centre Potsdam GFZ German Research Centre for Geosciences (GFZ) was available to users commencing GPS week 1777. According to [2], in these ephemerides the GEOs have an accuracy of about 50cm, while IGSOs and MEOs are ~10cm and ~5cm, respectively. Unlike the BDS broadcast, the precise ephemeride gives the BDS satellite coordinates in ITRS2008 and the satellite clock correction directly at every 5 (GBM) or 15 minutes (WUM) in GPST.
Transformation of coordinate and time systems
Transformation of coordinate and time systems To compare two ephemerides, the coordinates and time of the satellite must be in the same system. The satellite coordinates are calculated from the BDS broadcast ephemeride in CGCS2000. CGCS2000 is aligned with ITRF97 at epoch 2000 [8]. As a result, the deviation with ITRF2008 is about several centimters and can be neglected in the comparison.
The BDS satellite coordinates and clock corrections computed from the broadcast ephemeride refers to BDT time scale, while the coordinates and clock corrections received from the precise ephemeride refers to GPST time scale. Therefore, we conducted a transformation between BDT and GPST, that ignores fractions of a second [8]:
BDT = GPST – 14 (seconds) (1)
Transformation of satellite center of mass to antenna phase center
The satellite coordinates computed from the broadcast ephemeride are refered to the phase center of the satellite. However, the precise ephemeride refers to the satellite mass center. The offset between those two centers must be taken into account before the comparison.
Unfortunately, due to a lack of publicly available antenna phase center offsets for the BDS satellites, conventional values of (+0.6 m, 0.0 m, +1.1 m) are recommended for all BDS satellites. These values are considered as inaccurate as reported from some researchers [9].
DATA COLLECTION AND PROCESSING
The BDS broadcast ephemerides are taken from http://saegnss2.curtin.edu.au/ldc/ for one week from 15 to 21 November, 2015 (GPS week 1871). The precise ephemerides are downloaded from ftp://ftp.gfz-potsdam.de/GNSS/products/mgex/ also for the same time.
The BDS satellite coordinates and clock corrections from the BDS broadcast ephemeride are computed every 15 minutes. They are then compared with those of the precise ephemeride before and after correcting antenna phase center offsets. For evaluation, we determined RMS of X, Y, Z, and 3D of satellite positions, and RMS of satellite clock corrections by the following formula:
In the comparison, we decided to evaluate the accuracy separately for each orbital type of GEO satellites and MEO/IGSO satellites. The results are given in tables 1 to 5.
Table 1. Comparion between broadcast ephemeride and precise ephemeride (November 15 – 21, 2015)
Precise Ephemerides
Correct antenna phase center offset
Orbital types
σP (m)
σPT (µs)
GBM
No
GEO

Without C02

6.663

3.176

0.011

0.011

MEO/IGSO
2.334
0.014
Yes
GEO

Without C02

6.909

3.932

0.011

0.011

MEO/IGSO
2.941
0.014
WUM
No
GEO

Without C02

4.200

2.630

0.088

0.090

MEO/IGSO
2.380
0.085
Yes
GEO

Without C02

4.455

2.889

0.088

0.090

MEO/IGSO
2.967
0.085
Table 1 shows that the deviations of coordinates are always smaller for the case not correcting antenna phase offset. This problem was also mentioned in [6] that "no systematic bias exists between the radial positions of the two types of orbit products, which again suggests that the broadcast ephemerides refer to a position close to the spacecraft center-of-mass".
Considering the results for the case not correcting antenna phase offset, WUM ephemerides give closer values than GBM in GEO satellites (4.2/2.6m vs. 6.7/3.2m). However, in MEO/IGSO both the precise ephemerides are nearly the same (2.3m). GBM gives better results in clock correction (~13 nsec), approximately 6 times smaller than WUM (~87 nsec).
Among GEO satellites, C02 has significant deviations in the X component compared with the others. This leads to the large RMS value in the final results. When excluding this satellite, the RMS of GEO coordinates drop to 3m, nearly the same as MEO/IGSO satellites.
SUMMARY AND CONCLUSIONS
Through the assessement of the BDS broadcast ephemeride accuracy of the days from 15 to 21, November 2015, the results show that the accuracy of BDS satellite coordinates depends on the satellite orbital types. The accuracy of GEO satellites orbit average about 4.2-6.6 meters when we include C02. The accuracy of MEO/IGSO satellite coordinates is better than 2.5 meters. We found that the C02 satellite orbit error is significantly, 3D RMS more than 20 meter, primarily in the X component. The highest accuracy of clock correction is about 13 nsec that is obtained with GBM ephemerides.
Moreover, for both GBM and WUM precise ephemerides, the case of not using the correction of antenna phase center offset gives better RMS values than when the correction is used. Thereby we can explain that the antenna phase center offset values provided by the manufacturer are not really accurate.
REFERENCES
[1].Oliver Montenbruck , André Hauschild, Peter Steigenberger, Urs Hugentobler, Peter Teunissen, Shinichi Nakamura, (2013), Initial assessment of the COMPASS/BeiDou-2 regional navigation satellite system, Journal of GPS Solution, Volume 17, Issue 2, pp 211-222.
[2]. Shanshi Zhou, Xiaogong Hu, Jianhua Zhou, Junping Chen, Xiuqiang Gong, Chengpan Tang, Bin Wu, Li Liu, Rui Guo, Feng He, Xiaojie Li and Hongli Tan, (2013), Accuracy Analyses of Precise Orbit Determination and Timing for COMPASS/Beidou-2 4GEO/5IGSO/4MEO Constellation, China Satellite Navigation conference 2013, Wuhan, China May 15-17 2013.
[3]. Qile Zhao, Jing Guo, Min Li, Lizhong Qu, Zhigang Hu, Chuang Shi, Jingnan Liu, (2013), Initial results of precise orbit and clock determination for COMPASS navigation satellite system, Journal of Geodesy (2013) 87:475–486.
[4]. China Satellite Navigation Office, 2013, BeiDou Navigation Satellite System Signal In Space: Interface Control Document version 2.0.
[5]. Z. Deng1, M. Ge1, M. Uhlemann1, and Q. Zhao, Precise orbit determination of BeiDou Satellites at GFZ, IGS Workshop, 23-27 June 2014, Pasadena.
[6]. Oliver Montenbruck & Peter Steigenberger, The BeiDou Navigation Message, Journal of Global Positioning Systems (2013), Vol.12, No.1 : 1-12.
[7]. Lau Ngoc Nguyen, Experiments of Absolute Positioning Using BEIDOU in VIETNAM, Proceedings the 14th conference of science and technology organized at the HCMC University of Technology, October 2015.
[8]. China National Report on Geodesy: 2007-2010, The XXV General Assembly of IUGG Melbourne, Australia, 27 June – 8 July 2011.
[9]. Florian Dilssner, Tim Springer, Erik Schönemann, Werner Enderle, Estimation of Satellite Antenna Phase Center Corrections for BeiDou, IGS Workshop 2014 in Pasadena – California – USA, June 23-27.
APPENDIX
Table 2. Using GBM ephemerides without correction of antenna phase center offset
Day
Orbital types
σX
σY
σZ
σT
15/11/2015
GEO

Without C02

5.766

1.698

1.531

1.254

2.977

1.804

0.0087

0.0093

MEO/IGSO
1.438
1.135
0.803
0.0200
16/11/2015
GEO

Without C02

6.123

1.349

2.259

1.894

4.128

2.002

0.0103

0.0121

MEO/IGSO
1.141
1.045
0.788
0.0103
17/11/2015
GEO

Without C02

6.480

2.848

2.977

2.914

3.146

2.853

0.0090

0.0095

MEO/IGSO
1.689
1.146
1.057
0.0113
18/11/2015
GEO

Without C02

6.346

2.990

3.188

3.105

5.059

2.300

0.0083

0.0094

MEO/IGSO
1.596
0.975
0.887
0.0104
19/11/2015
GEO

Without C02

5.428

2.331

2.674

2.548

2.601

1.458

0.0095

0.0118

MEO/IGSO
2.086
1.670
1.041
0.0087
20/11/2015
GEO

Without C02

5.429

1.748

1.904

1.548

3.022

2.453

0.0196

0.0204

MEO/IGSO
1.816
1.787
1.096
0.0236
21/11/2015
GEO

Without C02

1.897

1.897

1.592

1.592

1.674

1.674

0.0095

0.0095

MEO/IGSO
1.752
1.726
0.987
0.0111
Mean
GEO

Without C02

5.353

2.123

2.304

2.122

3.230

2.078

0.0107

0.0117

MEO/IGSO
1.646
1.355
0.951
0.0136
Table 3. Using GBM ephemerides with correction of antenna phase center offset
Day
Orbital types
σX
σY
σZ
15/11/2015
GEO

Without C02

5.958

1.847

2.062

1.691

3.235

2.080

MEO/IGSO
2.190
1.011
1.180
16/11/2015
GEO

Without C02

5.927

0.966

2.889

2.347

4.409

2.313

MEO/IGSO
1.755
1.052
1.115
17/11/2015
GEO

Without C02

6.294

2.525

3.288

3.099

3.408

3.132

MEO/IGSO
2.362
1.078
1.394
18/11/2015
GEO

Without C02

5.912

2.356

3.724

3.482

5.294

2.545

MEO/IGSO
2.230
1.064
1.272
19/11/2015
GEO

Without C02

5.206

1.963

3.122

2.954

2.848

1.717

MEO/IGSO
2.521
1.748
1.474
20/11/2015
GEO

Without C02

5.189

1.306

2.682

2.195

3.175

2.589

MEO/IGSO
2.469
1.687
1.421
21/11/2015
GEO

Without C02

2.389

2.389

1.924

1.924

1.947

1.947

MEO/IGSO
2.478
1.545
1.280
Mean
GEO

Without C02

5.268

1.907

2.813

2.527

3.474

2.332

MEO/IGSO
2.286
1.312
1.305
Table 4. Using WUM ephemerides without correction of antenna phase center offset
Day
Orbital types
σX
σY
σZ
σT
15/11/2015
GEO

without C02

3.477

1.103

1.345

1.172

0.986

0.655

0.1059

0.1083

MEO/IGSO
1.538
1.154
0.806
0.1083
16/11/2015
GEO

without C02

4.689

1.373

1.943

1.805

1.294

0.919

0.1013

0.1046

MEO/IGSO
1.178
1.064
0.763
0.0968
17/11/2015
GEO

without C02

4.143 2.370
2.874

2.731

1.444

1.488

0.0836

0.0862

MEO/IGSO
1.699
1.152
1.022
0.0802
18/11/2015
GEO

without C02

4.019 2.380
2.672

2.867

1.095

1.328

0.0958

0.0980

MEO/IGSO
1.656
0.995
0.865
0.0919
19/11/2015
GEO

without C02

3.601

1.762

2.251

1.860

1.636

1.304

0.0783

0.0809

MEO/IGSO
2.163
1.678
1.010
0.0727
20/11/2015
GEO

without C02

3.454

0.704

1.142

0.819

0.779

0.944

0.0777

0.0788

MEO/IGSO
1.818
1.786
1.088
0.0807
21/11/2015
GEO

without C02

1.401

1.401

1.324

1.324

0.942

0.942

0.0726

0.0726

MEO/IGSO
1.913
1.794
0.969
0.0665
Mean
GEO

without C02

3.540

1.585

1.936

1.797

1.168

1.083

0.0879

0.0899

MEO/IGSO
1.708
1.374
0.928
0.0853
Table 5. Using WUM ephemerides with correction of antenna phase center offset
Day
Orbital types
σX
σY
σZ
15/11/2015
GEO

without C02

3.498

1.041

1.695

1.533

1.167

0.873

MEO/IGSO
2.299
1.021
1.166
16/11/2015
GEO

without C02

4.710

1.280

2.554

2.235

1.454

1.180

MEO/IGSO
1.802
1.047
1.081
17/11/2015
GEO

without C02

4.071

2.195

3.001

2.886

1.617

1.667

MEO/IGSO
2.274
1.069
1.357
18/11/2015
GEO

without C02

3.936

2.184

3.097

3.109

1.196

1.459

MEO/IGSO
2.291
1.066
1.240
19/11/2015
GEO

without C02

3.691

1.788

2.489

2.168

1.787

1.463

MEO/IGSO
2.597
1.728
1.441
20/11/2015
GEO

without C02

3.792     1.033
1.617

1.062

0.886

1.096

MEO/IGSO
2.465
1.674
1.404
21/11/2015
GEO

without C02

1.467

1.467

1.524

1.524

1.053

1.053

MEO/IGSO
2.647
1.577
1.255
Mean
GEO

without C02

3.595

1.570

2.282

2.074

1.309

1.256

MEO/IGSO
2.337
1.309
1.276